Cotolo Chronicles: History's Mysteries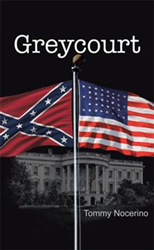 Live on Jan. 21 at 9 p.m. EDT, Tommy Nocerino returns to talk about his newest book, Greycourt, a novel of intrigue that takes place during the Civil War. Tommy and our host go wayyyyyy back to schooldays in Brooklyn, N.Y. and Tommy has performed on radio with our host, as well as with Thom Savino from Savino Veritas. Check in and listen to a conversation about Tommy's book and other books and Brooklyn.
Brought to you by the e-book 'Sweet Shepherd,' Amazon, $2.99. Also by 'More Molotov Memoirs,' the digital version, now at Blurb, only $5.99 and 'Man of la mantra,' the hilarious novella offering all of its proceeds to fourculture magazine, in digital format at Amazon, only $4.99.
Follow Frank Cotolo on Twitter: @FrankCotolo | Blogspot: Cotolo Chronicles | Facebook: @FrankCotolo
Podcast: Play in new window | Download