Savino Veritas: Erin Go Bra (and Panties)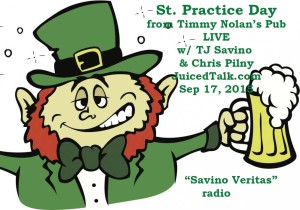 On this St. Practice Day edition, Veritas' news anchor Sal Monella reports on the real cause of last night's and today's small Tsunami waves hitting California: not the earthquake in Chile, but the ill-advised stage placement of Governor Chris Christie at that second GOP presidential candidates' debate. Then host Savino joins "Straight Guy Who Worked at Victoria's Secret" humorist Christopher Pilny who shares what he's come to learn about women, men and himself by working at Victoria's Secret. All this — live — over Guinness Stouts at a Burbank Irish Pub on this, September 17, St. Practice Day with authentic, live Irish music playing and singing along with them. Grab a beer, sit down, and click play.
This is Savino Veritas! Follow T.J on Twitter @tjsavino.
Read more at Topical Tweets and Titilations.
Podcast: Play in new window | Download