Cotolo Chronicles: Projects on Parade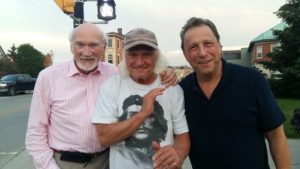 LIVE, Thursday, Aug. 10 at 9 p.m. EST, Charles Dennis (pictured right) returns with two co-stars of his new film, "Shortly To Go." Colin Fox and Kenneth Welsh (pictured) join the conversation, which includes some new projects: Dance of Death, Deadly Deceit and Mr & Mrs Johnson. Exclusive talk ensues with talented actors, artists and veteran, cutting-edge performers.
Cotolo Chronicles is LIVE broadcasting on SRN from 9 – 11 PM EDT and is brought to you by Sweet Shepherd, a novella for your Kindle at Amazon. And by More Molotov Memoirs, the digital version, now at Blurb, only $5.99 and Man of La Mantra, the hilarious novella offering all of its proceeds to Fourculture Magazine, in digital format at Amazon, only $2.99.
Follow Frank Cotolo on Twitter: @FrankCotolo | Blogspot: Cotolo Chronicles | Facebook: @FrankCotolo
Podcast: Play in new window | Download