Savino Veritas: Everybody Leaves Somebody Sometimes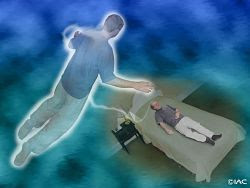 OBE: Out of the Body Experiences is thoroughly explored with author of "Demystifying the Out-of-the-Body Experience: A Practical Manual for Exploration and Personal Evolution" Luis Minero. Minero also talks about The International Academy of Consciousness (IAC) whose mission includes teaching about the different dimensions of consciousness.
Savino Veritas welcomes a new character to its cast of regulars: Comedian Bill "The Bull" Testosteroni whose quick on-stage one-liners about OBEs set the table for tonight's topic. Of course, Veritas' news anchor Sal Monella reports on the presidential candidates experience with paranormal activity. Veritas' in-the-field corespondent Lily Ramirez interviews a professor of religious studies and a college student who routinely travels astrally. So, save on high gas prices and tolls and learn about Astral Travel.
Follow Thom Savino on the Web
Twitter: @tjsavino | Blogspot: Topical Tweets and Titilations | Instagram: @tjsavino
Podcast: Play in new window | Download