The Fabulous D Show: No Stress with Toneazy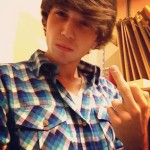 The Artist D welcomes back the man with the perfect beatz, Philadelphia hip hop music maker Toneazy. Tone catches us up on his successes since season four as well as his big plans for 2013 expanding outside of hip hop. It's another open conversation leaving nothing to the imagination as they discuss Tone's 21st birthday, shoe fetishes and bourbon vs whiskey. Oh for the love of pussy, you must tune in! Yes, they'll talk about that too.
Visit Toneazy at Reverbnation.
Hear his beats on Soundcloud.
Watch Toneazy on YouTube.
Follow him on Twitter.
Podcast: Play in new window | Download