The Fabulous D Show: Fukt 2 Start With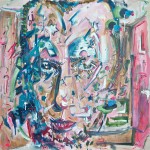 He may have been "fukt" to start with but Walt Cessna has managed to live a countless amount of lives packed into one. A runaway from the early ages of 12 he rushed into the life of design and has kept going ever since. Ex fashion terrorist turned renegade artist/author Walt's photography is raw and down right scandalous to some viewers! The Artist D welcomes Walt to the show as he unearths himself for us in open conversation. Walt comes to us with stories from the authentic club kid days of New York City. They'll talk about his journey from the east coast to the west coast and back. Hear about the making of his first book FUKT 2 START WITH as well as what's next! Find out his views on rehab and sobriety. Oh … and what he's doing in Florida! Don't miss this grand episode from the underground.
See Walt's endless portfolio on Tumblr.
Visit Walt on Facebook.
Purchase prints and autographed copies of FUKT on Pinterest!
Learn more about Artist D at TheArtistD.com
and hear more amazing shows at TheFabulousDShow.com
Podcast: Play in new window | Download